Why Cupcakes Are The Best!
Cupcakes are the best because they let you have that moment of cake, but on a personal level. You never feel like you ate too much with a cupcake, but a slice of cake can sometimes be overwhelming or too heavy.
Cupcakes don't care if you're into vanilla, chocolate or any possible combination of the two. Cupcakes are good both ways. If you have to feed a group, cupcakes make everyone feel like they got their fair share.
BLOG LOVE SPRINKLES CUPCAKE just take look in the line outside the store!! all day long.!
Sprinkles
is the winner of the Readers' Choice Award for Best Cupcake.
Sprinkles
is a favorite of Hollywood stars from Tyra Banks, Russell Crowe and Paris Hilton to Katie Holmes, Oprah Winfrey and Teri Hatcher, all of who proclaim love for the sumptuous treats. "I love Sprinkles Cupcakes," says Banks. "I am addicted to them." Ryan Seacrest is a fan, too. "These are not just cupcakes, they're a lifestyle," he says. Barbra Streisand once sent a box of
Sprinkle's
cupcakes to Oprah Winfrey. Oprah enjoyed them so much she ordered enough to share with her entire studio audience. Sprinkles is also known for its star topped variety served at Oscar parties.
Here are one of the best cupcakes shops in US, and Internacional.
Spinkles ( Los Angeles, Ca.)
SusieCakes (Los Angeles, Ca.)
Buttercup Cake Shop (london)
Cake Box ( Ontario, Canada)
Cupcakes By Tom ( Mexico City)
Cupcake & Co (Sao Paulo, Brazil)
Clever Cupcakes (Montreal, Canada)
Coco Cake Cupcakes (Vancouver, Canada)
Magnolia bakery (UAE, Dubai)
Since Halloween is coming i got some creative ideas for Halloween Cupcakes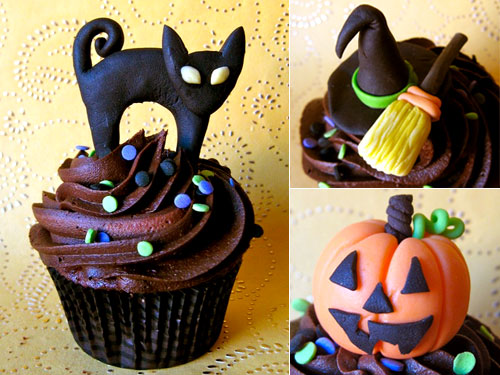 On a slightly different theme, how about making these vampire bat cupcakes with chocolate wings.
Learn to bake your own cupcake THIS IS THE BLOG FAVORITE ONE YUMMY...!!!
Red Velvet Chocolate Cupcake with Cream Cheese Frosting
3 3/4 cups AP Flour

3 tablespoons cocoa powder

1 1/2 teaspoons soda

1/2 teaspoon

12 tablespoons unsalted butter, at room temperature

1/4 cup of brown sugar

2 cups granulated sugar

3/4 cups vegetable oil

3 large eggs

1 1/2 teaspoons pure vanilla extract

1 1/2 teaspoons red wine vinegar

1 tablespoon red coloring

1/14 lemon juice or white vinegar

1 1/2 milk at room temperature

Frosting, recipe follows
For the cupcakes:
Preheat the oven to 350 degrees F.

Line or Butter and flour a cupcake Pan.

Pour 1 1/4 T of lemon juice and white vinegar into a measuring cup. Add the milk until it hits the 1 1/2 cup line. Let sit. This is a substitute for buttermilk. Set aside for at least 5 minutes to get the mixture form correctly.

Whisk together the flour, cocoa powder, baking soda and salt in a small bowl

Cream the butter, sugar and oil until light yellow and fluffy.

Add the eggs (best if at room temperature), one at a time, scraping down the sides of the bowl and beat until incorporated.

Beat in the vanilla, red wine vinegar, and food coloring. Please note that you will use a small amount of food coloring for this recipe. (For more red, add more food coloring until desired amount is achieved. They will lighten when they bake. This recipe followed exactly will result in a deep brownish-red colored Red Velvet Cupcake).

Add the flour mixture to the batter in 3 batches alternating with the fake "buttermilk" mixture, mixing well after each addition.

Divide the batter in equal portions using a 1/4 cup measuring cup and bake for 30 to 40 minutes, rotating after about 20 minutes to give cupcakes an even bake. Check by inserting a toothpick in the center of cakes, and making sure the toothpick comes out clean.

Cool for 15 minutes before removing the cupcakes cake from the pans.

Let cool completely before frosting with Cream Cheese Frosting.
Cream Cheese Frosting for Red Velvet Cupcake Recipe:
4 ounces unsalted butter, softened

4 ounces of cream cheese softened at room temperature.

2 cups powdered sugar

1 teaspoon vanilla extract
In a large bowl, beat together the butter and cream cheese with an electric mixer.
With the mixer on low speed, add the powdered sugar a cup at a time until smooth and creamy.
Beat in the vanilla extract.
To decorate, take a plastic sandwich bag and scoop frosting into the bag, filling no more than half way. Cut a hole in one corner of the bag the size of your ring finger and decorate cupcakes by squeezing out of the hole in a circular motion, making a cupcake that looks similar to the picture above.
Sprinkle optionally with shaved chocolate or chocolate sprinkles.